Lindsay Mathyssen
London—Fanshawe
Member of Parliament for London—Fanshawe
Lindsay is a dedicated champion for workers and families in London. Born and raised in London she understands the challenges faced by people in our community. For over 15 years she has fought to make sure the federal government is working for you. As a Member of Parliament Lindsay led the fight to ensure that people in her community are getting the services they deserve.
Within the NDP Caucus Lindsay has been a leader and currently serves as the Deputy House Leader and the Critic for National Defence. She previously served as Critic for Women and Gender Equality and is currently the deputy critic in this portfolio. Lindsay continues to fight for women and families, and has delivered real action to fully implement pay equality legislation, improved access to vital public services, stop violence against women, and pushed for a universal, national, and affordable childcare program. She knows women and families have been some of the hardest hit during the pandemic and she's fighting to make sure they do not fall behind.
As the NDP's former Critic for Diversity, Inclusion and Youth and Critic for Post-Secondary Education Lindsay stood up for people who are too often ignored by government decisions. She's worked to create a future where racism, discrimination, homophobia, and transphobia have no place in Canada. Lindsay is fighting to make sure everyone can start their careers off right, without thousands of dollars of debt, by putting an end to interest on student loans.
During the pandemic, Lindsay and her constituency office staff supported constituents who were struggling to pay their bills, keep their businesses operating, and bring their family members home from outside the country. They received hundreds of calls and thousands of emails from many residents of London-Fanshawe about how to access the federal government's support programs. The constituency staff are regularly available to answer inquiries about COVID programs, issues with the CRA, seniors benefits, EI, student loans, passports and immigration.
Lindsay is the fourth generation in her family to live in London-Fanshawe and currently lives in the Pond Mills area. In the House of Commons, she is working for her community directly to help workers by cracking down on predatory PayDay loan companies and fighting for better access to mental health care and to expand on all health care services. She's also is demanding real protections for our local lakes and rivers to keep them healthy for future generations.
Lindsay is incredibly proud to be the Member of Parliament in London–Fanshawe.
Latest News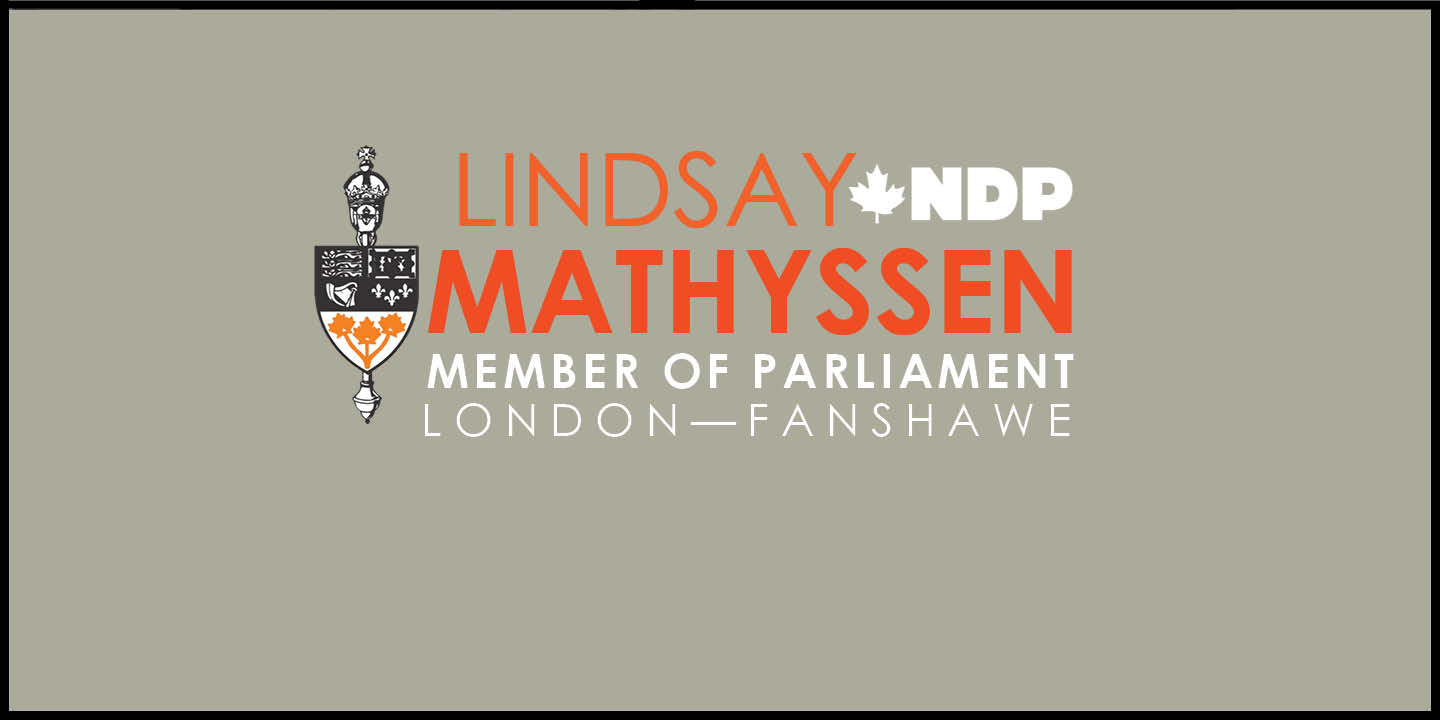 December 1
MP Mathyssen Questions International Law Expert on Israel and Palestine
Dr. Kersten, you had talked about Canada being a strong proponent of the rules-based international order, and I think there's a...my concern, of course, is the consistency of that, that it happens throughout and we are seen to do that no matter who's involved. Of course, we're not seeing that, as you had mentioned, in the position Canada has taken in terms of the conflict in Israel and Palestine. Can you explain more about Canada's actions toward the ICC and ICJ in the context...
more »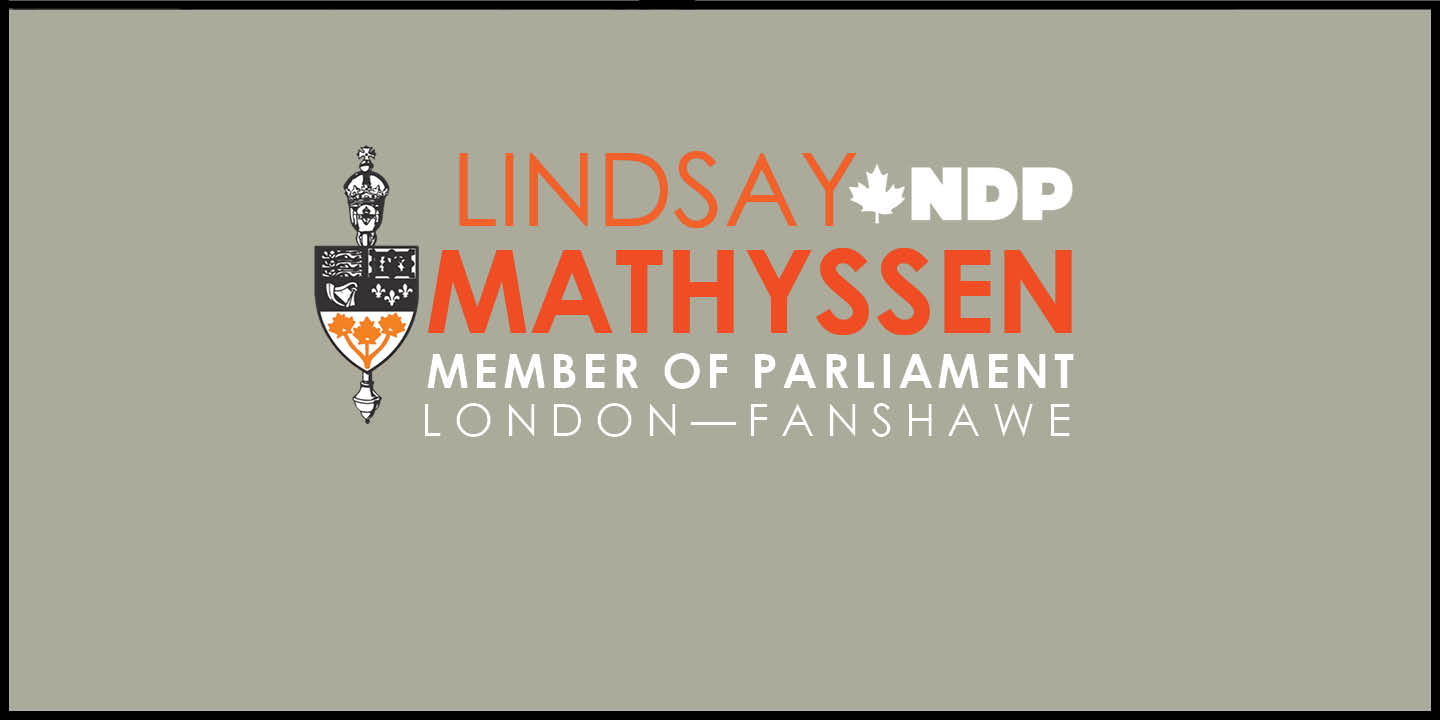 November 30
MP Mathyssen Raises Constituent Concerns Regarding Banking Institutions
Mr. Speaker, one of the things that really concerns people in my riding is the disappearance of financial institutions in neighbourhoods where it is not seen as being financially convenient for them to be in that big business market.
more »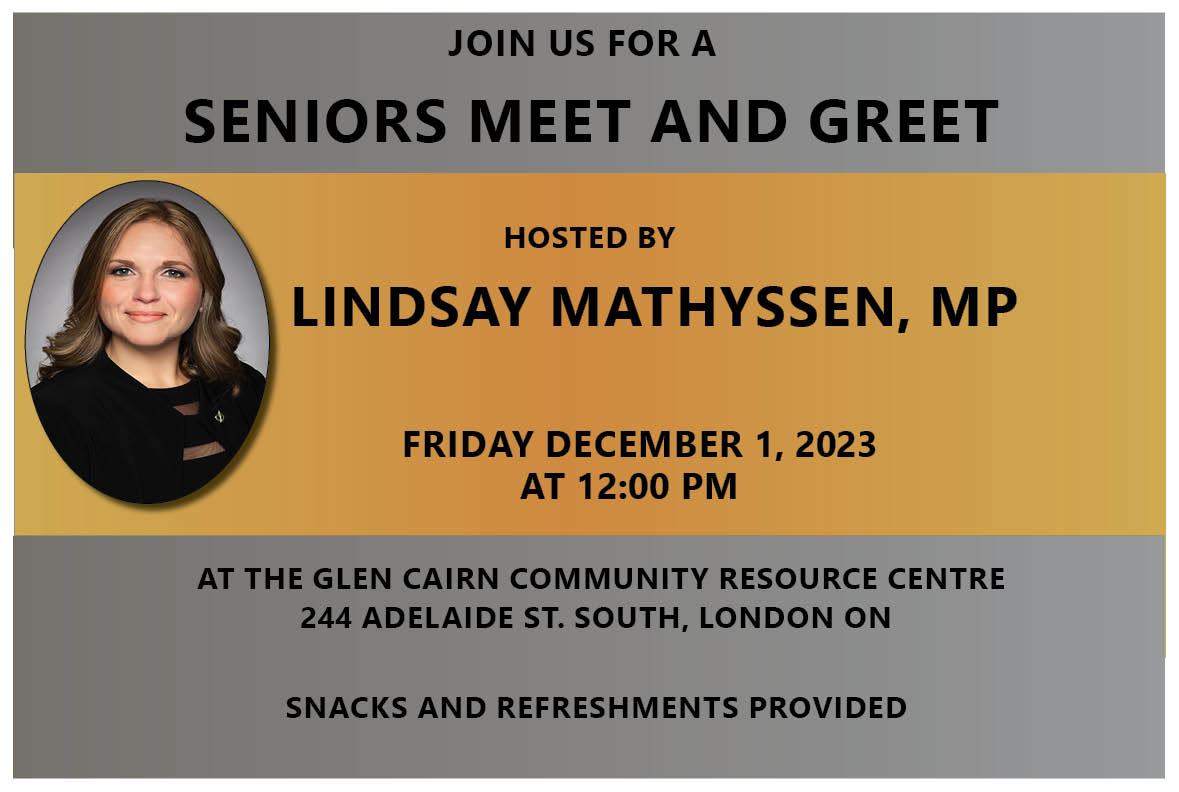 November 27
Please Join Us For a Seniors Meet and Greet
I am looking forward to update our seniors on the work I am doing in Ottawa, and to hear their concerns and feedback.
more »